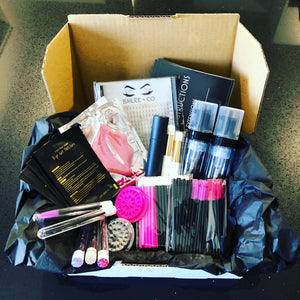 🖤S A M P L E R   B O X E S 🖤
Do you want to sample our MEGA Tray Premade Fans and Aftercare Products before having to buy full packs? Well we've made this special sampler box just for you.
💲49.95 each (over $70 of value)
What comes in the box?
1 x MEGA Tray Premade Fans (mixed length tray)

2 x foaming pump bottles

2 x cleansing brushes

5 x slim gel pads

2 x lip masks

3 x jewelled mascara wands (3 colours)

2 x mascara wand in tube (2 colours)

30 x mascara wands (3 colours)

30 x lip wands (3 colours)

5 x aftercare instruction cards

6 x glue dot holders (2 colours)