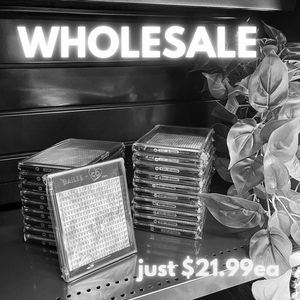 🖤 W H O L E S A L E    S A V I N G S 🖤
Because work smarter, not harder… and MEGA Trays at just $21.99 is how to go!
We're not a fan 😉 of the need to spend $1000 or more at a time to receive a discount of your most purchased items so we're slowly changing our website to offer certain items at permanently wholesale rates, REGARDLESS of your purchase amount.
We've started with our two most popular Super-Dark Short Stem MEGA Tray ranges; 5D 0.07 + 8D 0.05 D Curls which will be available in the options below;
• 8mm (10 trays)
• 9mm (10 trays)
• 8mm/9mm (5 x each size)
• 10mm (10 trays)
• 11mm (10 trays)
• 12mm (10 trays)
• 13mm (10 trays)
• 14mm (10 trays)
• 15mm (10 trays)
• 14mm/15mm (5 x each size)
Ordering is exactly the same as ordering single trays, with the option to add multiple boxes or different lengths to your cart in just one click!