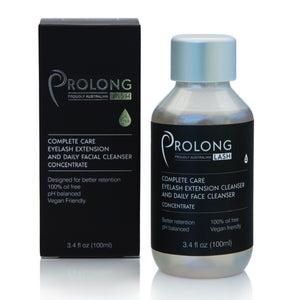 One of the worlds most trusted lash cleansers - Prolong Foaming Lash Cleanser Concentrate! 
• Oil-FREE formula
• PH balanced
• Australian-Made from natural ingredients
• Free from oil, glycerine, glycerol, artificial colour, ethanol, parabens, synthetic or added fragrances.
Be able to make your own custom lash cleanser from just $3.82!! Just follow the dilution table.
This cleanser is the perfect way to boost your salon sales and give your clients the easiest way to keep their lashes lasting and looking fresh and fluffy!
Available in 1, 5 + 10 packs! If you wish to purchase more than 10 bottles please email us at bailee.co@outlook.com for further discounts.